The summer heat relents, and NTIA celebrates the success of its internship program!

As one of NTIA's nine summer interns, I spent the past two months working in NTIA's Office of Public Affairs helping to manage a range of activities related to the agency's web presence and media relations. Much of my work focused on helping to develop NTIA's new website, track news coverage, and highlight some of the Broadband Technology Opportunities Program (BTOP) [1] grantees' ongoing progress and success stories.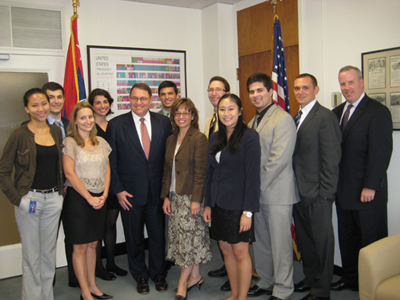 NTIA, under the leadership of Assistant Secretary Strickling, is building a strong internship program with year-round opportunities for students to help support the agency's work as the President's principle advisor on telecommunications and information policy issues. Pictured from left to right: Susan Tan, Kacper Szczepaniak, Agatha Cole, Margaret Ross-Martin, Assistant Secretary Lawrence E. Strickling, Ryan Hatoum, Deputy Assistant Secretary Anna M. Gomez, Rafi Goldberg, Jaclyn Ong, Alexander Ratner, Tom Randall, Deputy Chief of Staff and Internship Coordinator Jim Wasilewski

My fellow interns undertook projects as varied as providing technical assistance to the NTIA staff, crunching numbers for the National Broadband Map [2]'s data team, and drafting memos and reports for the Office of Policy Analysis and Development [3]-the unit responsible for research on issues including Internet policymaking and expanding broadband access and adoption across the country.

Outside of our individual offices, the internship program offered opportunities to learn more about the agency's work on a wide variety of policy issues. For example, each week the interns joined a top NTIA official for a brown-bag lunch. This was a great way to learn about the roles of different NTIA offices and administrators in more depth. For instance, the Office of International Affair's Fiona Alexander spoke with us about Internet policymaking principles, Chief Financial Officer Leonard Bechtel explained his work managing NTIA's budget, and Chief Counsel Kathy Smith discussed NTIA's legal program. We also sat in on meetings, including a quarterly agency-wide assembly where we were able to see how our work supported the agency's key initiatives and even saw some of our efforts highlighted. In addition, we attended a number of tech-related forums, events, and congressional hearings.

As my internship draws to a close, I realize how much I have learned not only about NTIA but also about the time, energy, and large-scale collaboration required to develop federal policy. To have had this opportunity while meeting so many other young people interested in government service has been inspiring to say the least. I know I speak for all the summer interns when I say that the chance to pursue such exciting and meaningful work alongside this dedicated staff has been an exceptional learning experience.

Many thanks to all the interns who helped make this summer a resounding success:


Agatha Cole
Cardozo School of Law

Rafi Goldberg
Georgetown Public Policy Institute

Ryan Hatoum
University of Maryland, College Park

Jaclyn Ong
UC Santa Barbara

Tom Randall
George Mason University School of Law

Alexander Ratner
DePaul University College of Law

Kacper Szczepaniak
Ohio State Moritz College of Law

Susan Tan
Georgetown University
For students interested in learning more about NTIA's mission and initiatives firsthand, I encourage you to apply to this program. With positions open in each of the agency's offices, there's something for everyone. To find out more, visit NTIA's internship page [4].