As part of our BTOP series: Tales from the Front Lines [1], today we are highlighting North Carolina infrastructure grantee MCNC.
MCNC [2], a nonprofit broadband provider that operates the North Carolina Research and Education Network (NCREN), is using Recovery Act funds to deploy or upgrade 2,600 miles of fiber in rural areas across the state. The network will initially deliver speeds of 10 gigabits per second and eventually scale to a 100-gigabit-per-second middle-mile network. It will extend the reach of the existing NCREN system to connect nearly 2,700 additional anchor institutions, including libraries, hospitals and public safety facilities. The new network will also deliver faster and more reliable connections to K-12 schools, colleges and universities already on NCREN. And it will be an important source of dark fiber for commercial Internet providers that want to expand their own systems. MCNC's project is already creating construction jobs and jobs for local vendors such as CommScope in Hickory, N.C., which is supplying fiber and other materials. It is also laying the groundwork for economic revitalization in places such as Kannapolis, N.C., a former textile mill town that is reinventing itself as a biotechnology and life sciences hub.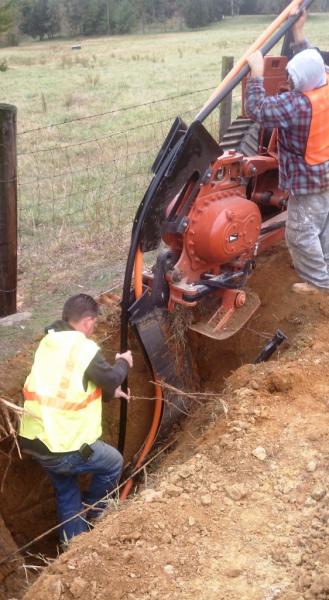 MCNC construction crew at work.
Freddoso explained that MCNC needs to upgrade and expand its network to be able to supply a modern telecommunications infrastructure for the state's rural communities and keep up with the surging bandwidth needs of critical anchor institutions. Those bandwidth requirements range from fast access for third graders on North Carolina's Outer Banks who are downloading power point presentations to complete homework assignments, to dedicated point-to-point transport for researchers at UNC-Chapel Hill or Wake Forest who are collaborating with colleagues across the globe. MCNC's goal, Freddoso said, is to build a broadband infrastructure that can scale for the future.
For more information see the MCNC BTOP project [3] pages [4].