This post is part of our "Spotlight on NTIA" blog series, which is highlighting the work that NTIA employees are doing to advance NTIA's mission of promoting broadband adoption, finding spectrum to meet the growing demand for wireless technologies, and ensuring the Internet remains an engine for innovation and economic growth.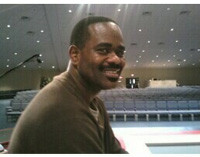 Lee Dixon hasn't had a career. He's had many careers: Air Force entertainer, jet mechanic, military recruiter, personnel technician, piano lounge singer, security guard, ordained Baptist minister, and most recently office manager for NTIA's Office of Chief Counsel.
But perhaps the one role he can't seem to get away from is singer. One of his first professional moments in the spotlight came in the Air Force, when he spent two years as a member of the Air Force's highly acclaimed entertainment troupe known as "Tops in Blue." He traveled the world to entertain Air Force members stationed abroad. In the years since then, he has sung at weddings and other events and even had a two-month stint accompanying a piano player at a club in Florida.
A few years ago, he auditioned and clinched a spot as one of the lead singers for an Earth, Wind and Fire tribute band – taking on many of the songs sung by the band's legendary leader Maurice White. He spent just under two years with the band, traveling up and down the East Coast and performing at such clubs as BB Kings Blues Club in New York City. The frequent travel got to be too much of a grind, which is why he decided to drop out, Dixon says.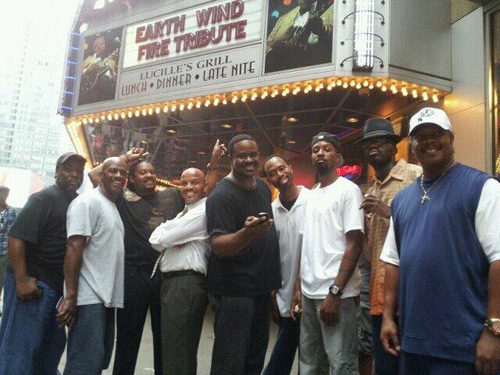 Dixon continues to sing with an a capella gospel group known as the Recovering Angels, which performs at churches and some events. Dixon also has performed at NTIA a few times. His toughest audience so far, he says, was the dozen or so children who came to work with their parents for NTIA's "Bring Your Kids to Work" day last spring. He says they weren't overly impressed with his rendition of popular Disney songs. "I laid a real egg," he says with a laugh. One gig he does not regret was singing to his bride at his own wedding ceremony in December.
Dixon's father was in the Air Force and so the family moved around the country and the world when he was a child. Dixon's family lived in the Washington, D.C. area for a time and he graduated from Cardozo High School in Washington. After a year of college in California, Dixon opted to follow his Dad into the Air Force. He served 20 years in the Air Force, taking on a variety of positions including jet engine mechanic, personnel technician, intelligence officer and recruiter. After leaving the military, he worked for government contractors overseas for several years. He later relocated to the Washington area and initially went to work for Fannie Mae in its executive protection service where he was assigned to help guard the organization's top executives.
Dixon has worked at NTIA for three years. He describes his current job as akin to Radar O'Rielly from the "MASH" television series, since he often tries to anticipate the needs of the lawyers in his office and "keep things flowing."
Dixon also can be counted on to offer a friendly smile in the halls of NTIA. He says he always tries to come to work with a positive attitude. "My father used to say … 'if you're happy, make sure to tell your face,'" he says.