Spotlight on NTIA: John Verdi, director of privacy initiatives, Office of Policy Analysis and Development
July 30, 2013 by NTIA
This post is part of our "Spotlight on NTIA" blog series, which is highlighting the work that NTIA employees are doing to advance NTIA's mission of promoting broadband adoption, finding spectrum to meet the growing demand for wireless technologies, and ensuring the Internet remains an engine for innovation and economic growth.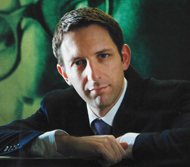 When NTIA was tasked last year with helping to launch a new multistakeholder process aimed at developing privacy codes of conduct for various business sectors, the agency turned to someone who understood how technology, law and privacy intersect.
With a background as both a computer programmer and lawyer, John Verdi fit the bill. Verdi, who began his job as NTIA's director of privacy initiatives in April 2012, has been in charge of organizing the multistakeholder process aimed at drafting voluntary industry codes of conduct to enhance consumer privacy. In this role, Verdi has the delicate job of trying to help move the process forward without weighing in on the substance.
The process reached an important milestone last week when stakeholders involved in the process agreed to begin testing and implementing a privacy code aimed at enhancing the transparency of mobile apps.
After graduating from the State University of New York at Binghamton with a philosophy, politics and law degree, Verdi worked as a computer programmer. While he enjoyed working with technology, Verdi says he didn't see computer programming as a career that would satisfy him for the long term and decided to pursue a longtime interest in law. At Harvard Law School, Verdi says he had the opportunity to be around a lot of people at the cutting edge of technology and law.
But after law school, his focus wasn't initially on technology law. Instead, he worked for nearly five years at a small civil litigation law firm, which didn't have a strong technology focus. It wasn't until 2008 that Verdi had the chance to merge his interest in technology and law when he landed a job as general counsel of the Electronic Privacy Information Center, a privacy advocacy group. While at EPIC, Verdi supervised the organization's litigation program, pursued federal lawsuits regarding privacy issues, and authored Supreme Court briefs.
Verdi spends most of this time out of the office with his two young children.  He doesn't have a lot of extra time, but he does make time for baking. "I am a terrible cook, but I'm a good baker," he says. His specialties include brownies, scones, bagels and pizza. He says he started baking his own bagels and pizza after finding a dearth of pizza and bagel places in the Washington area that measure up to those found in his home state of New Jersey.