Spotlight on NTIA: Isha Carry, Program Analyst, Office of Policy Coordination and Management
June 27, 2014 by NTIA
This post is part of our "Spotlight on NTIA" blog series, which is highlighting the work that NTIA employees are doing to advance NTIA's mission of promoting broadband adoption, finding spectrum to meet the growing demand for wireless technologies, and ensuring the Internet remains an engine for innovation and economic growth.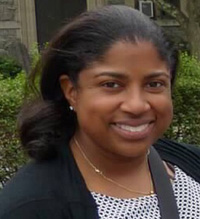 Isha Carry has spent her entire career at the Commerce Department, but one could hardly accuse her of being complacent. Carry began working at Commerce at age 16 in the U.S. Travel and Tourism Administration. In her 22 years with the department, she has held several positions with many different responsibilities. Her experience ranges from serving as program assistant at the International Trade Administration (ITA) to IT specialist in the Office of the Secretary.
Carry currently works in NTIA's Office of Policy Coordination and Management (OPCM).  She uses her varied skills and experience to fill several roles for OPCM, and is often considered the "go-to" person to get things done. Her day could range from dealing with property management and FirstNet's move to new workspace to production of NTIA's Congressional budget submission. Carry is looking forward to expanding her role in the development and implementation of NTIA's budget in the upcoming fiscal year.
 "You have to continue to grow," Carry says on why she has changed jobs so many times. She added that she has always strived to continue to learn and acquire new skills. Carry also notes that she has developed great friendships inside and outside the department. She began her career with the federal government with the help of the "Stay in School" work study program she participated in through her high school.
"If you don't do the college path right away, you have to move around and move strategically. There was an opportunity for me back then that may not be around the same way today," Carry says. She attributes her success at Commerce and ability to advance her career to "always asking what's next." Despite all the moving around, she says she feels she has found a real home at NTIA.
"NTIA is the best place I've ever worked. There's a great mission to focus on. It's just an awesome place," Carry says.
Carry was born in Washington, D.C., grew up in Fredericksburg, Va., and has lived in Maryland since 1989. Her 18-year-old daughter, Kayla, will be heading off to college in the fall to study international relations.
In her down time, Carry loves movies and collects movie tracks. She says she is fascinated by sound design. She is also a big fan of the small screen too, keeping up with TV shows like Game of Thrones, Newsroom, Grey's Anatomy, and Penny Dreadful. After her daughter heads off to college, Carry says she hopes to use her new free time to travel and work on her knitting.