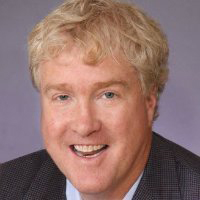 Doug Kinkoph is the Associate Administrator of NTIA's Office of Telecommunications and Information Applications (OTIA) within the U.S. Department of Commerce, where he directs the BroadbandUSA initiative to promote broadband deployment and adoption across communities nationwide. He also has been responsible for overseeing the $4 billion Broadband Technology Opportunities Program (BTOP) and State Broadband Initiative program, resulting from the 2009 American Recovery and Reinvestment Act. These programs funded the deployment of broadband infrastructure, public computer centers, sustainable adoption of broadband service, and the statewide broadband planning and data collection initiative used in creating the National Broadband Map. Prior to his current role, Mr. Kinkoph managed the team responsible for overseeing the BTOP broadband infrastructure grants.
Before joining the Department of Commerce, Mr. Kinkoph held multiple executive roles in the communications industry as well as in the public and private sectors as a telecommunications policy expert. Most recently, Mr. Kinkoph was Vice President of Operations at Soundpath Conferencing where he was responsible for all sales, marketing, and customer service operations. His private sector experience also includes serving in senior regulatory and policy roles at XO Communications, Nextlink, and LCI.
Mr. Kinkoph earned his M.A. in Administration from Central Michigan University and his B.S. in Telecommunication Management from Ohio University.