Image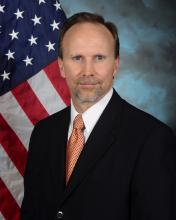 Steven A. Molina is the Deputy Associate Administrator for Spectrum Management in the Office of Spectrum Management at the National Telecommunications and Information Administration (NTIA).  He is responsible for strategic planning, spectrum affairs and information, and international spectrum policy programs.  His work includes leading the development of spectrum regulations and policies, and conducting stakeholder outreach to ensure sufficient spectrum access for federal agencies to perform their missions successfully.  In addition, his office is also charged with implementing the President's goal of making additional spectrum available for commercial wireless broadband services to balance U.S. national security and economic prosperity interests. 
Prior to joining NTIA, Mr. Molina served as the Director of the Strategic Planning Office within the Department of Defense (DoD) Defense Spectrum Organization (DSO), where he was responsible for developing comprehensive and integrated spectrum plans along with long-term strategies for DoD spectrum access.  His work included leading the development of the DoD Spectrum Strategy and advising DoD leadership on spectrum policy, regulation, pending legislation, and emerging spectrum access/sharing technologies.
Prior to the DSO, Mr. Molina was a senior engineer and project manager for the DoD Joint Spectrum Center (JSC), where he provided technical oversight to assist the spectrum management community in spectrum planning and the design, development, testing, and operation of military systems to ensure compatibility with the intended electromagnetic environment.  Prior to joining the JSC, he worked as a technical lead and project manager for the engineering contractor that supported the JSC.
Mr. Molina received his Master of Science in Electrical Engineering from Johns Hopkins University, and Bachelor of Science in Electrical Engineering from the Pennsylvania State University.  He is married with two children.