Closing the Digital Divide: Focus on Native American Communities
December 14, 2011 by Anthony G. Wilhelm, Director, Broadband Technology Opportunities Program
Too many Native American communities are on the wrong side of the digital divide, lacking access to broadband Internet service and to the economic, educational, and health care opportunities that it enables. NTIA's broadband grants program, funded by the Recovery Act, is tackling this challenge by bringing broadband Internet facilities to tribal lands and providing computer training to tribal communities. We awarded grants to five tribal authorities for infrastructure and public computer center projects, a subset of the more than 60 broadband projects that will directly benefit tribal communities throughout the United States. Here are some examples:
· In the Navajo Nation, an area with rugged terrain and significant poverty, approximately 60 percent of residents lack even basic telephone service. The Navajo Tribal Utility Authority is now constructing broadband infrastructure that will ultimately cover 15,000 square miles in Arizona, Utah, and New Mexico. Among other benefits, the project plans to connect 49 Chapter Houses, which serve as community centers for the Navajo population, and pave the way to bring telemedicine services, such as remote diagnostics and patient consultations, to this rural population.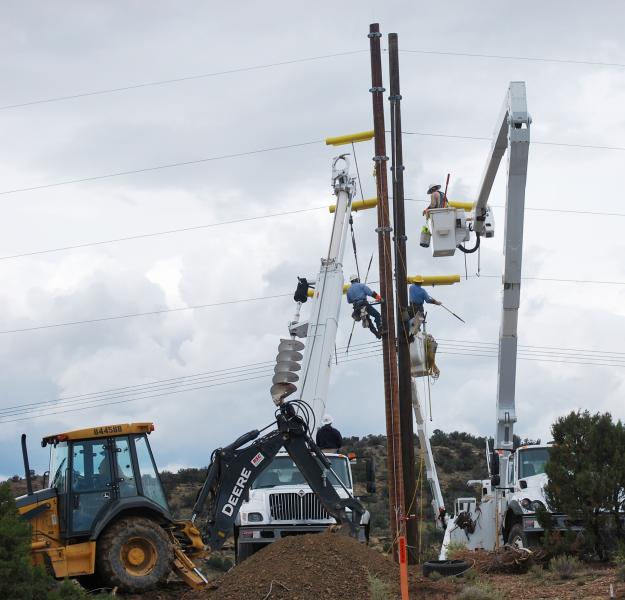 Navajo Tribal Utility Authority construction crews prepare electric infrastructure for installation of fiber-optic cable in the 550-mile broadband infrastructure project.
· The Nez Perce Tribe is building a wireless microwave broadband network in northern Idaho to bring high-speed Internet service to community anchor institutions, including public safety facilities and libraries. For example, the new network will improve distance-learning capabilities for Northwest Indian College, the only Native American higher education institution in the area. Nez Perce will also offer broadband service directly to households and businesses in underserved areas. The project expects to complete most of its tower construction by the end of this year, with wireless installation to follow. Nez Perce plans to launch service for the reservation next spring.
· In recent years, many members of The Saint Regis Mohawk Tribe in upstate New York lost jobs in auto manufacturing and aluminum production. The Tribe is now providing community members with new tools to compete in the digital economy. They have already opened one of five planned public computer centers, where they will offer courses in digital literacy, workforce skills, and business development. In partnership with CyberLearning, Inc. and SUNY Potsdam, the project also just held its first digital literacy course, which was designed to "train the trainers"; the graduates of this course will help the Tribe towards its goal of providing digital literacy training to 2,700 members.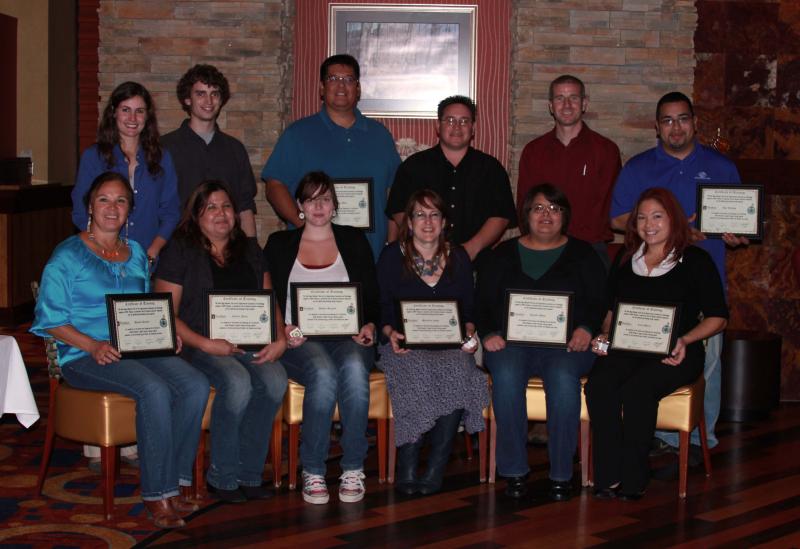 New graduates from The Saint Regis Mohawk Tribe's digital literacy training course and their instructors. Graduates will train other tribal members in computer skills.
· And Pine Telephone Company, a family-owned company that has built and operated communications networks in rural Oklahoma for nearly 100 years, will use wireless technology to deliver affordable broadband service to portions of rural, remote, and economically disadvantaged areas of southeast Oklahoma, including the Choctaw Nation. The company is more than halfway done with tower construction and currently testing service with customers.
These are just a handful of the Recovery Act broadband projects that are bringing new opportunities to tribal communities – investments that can pay dividends for decades to come.