Spotlight on NTIA: Bart Gibbon, Information Technology Engineer, Office of Policy Coordination and Management
July 31, 2014 by NTIA
This post is part of our "Spotlight on NTIA" blog series, which is highlighting the work that NTIA employees are doing to advance NTIA's mission of promoting broadband adoption, finding spectrum to meet the growing demand for wireless technologies, and ensuring the Internet remains an engine for innovation and economic growth.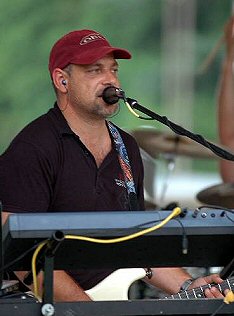 Bart Gibbon is not your average NTIA employee. He is one of a handful of employees at a remote site many NTIA employees might not have heard of before.
Gibbon is an information technology engineer at NTIA's remote site operations in Gettysburg, Pa., where he has worked since he joined the agency in 2005. He spends his days in a different setting than the typical NTIA employee, but he says his work in the information technology department is just like that of any IT engineer. Up until two months ago, Gibbon was the sole IT employee at the Gettysburg office.
Day-to-day, Gibbon works on maintaining and enhancing the site's capabilities by applying patches and updates to the servers and assists in responding to help desk tickets. Even though he is not in NTIA's main Washington office, he says he spends most of his time on the phone with other NTIA employees. He also travels to the main office for meetings about every other month. 
Prior to working for NTIA, Gibbon served in the Navy for six years. After leaving the Navy, he worked from 1992-2005 as a civilian Defense Department employee to support the chief of naval operations as an electronic technician.
Outside of work, Gibbon is a musician in a classic rock band called Sticktime, which performs across Pennsylvania. Gibbon plays keyboard, guitar, and sings in the band. "I have a small home studio, too. There are five people in the band, including my son. We play at local bars, wine festivals, and all kinds of stuff," Gibbon says.
Gibbon has three children, who are all graduates of Penn State University, which is also where his wife works. His oldest son also served in the Navy and like his father, now works as a civilian federal employee for the Defense Information Systems Agency. His younger son works as a contractor for FEMA -- when he's not performing alongside his dad in Sticktime. His daughter, the youngest of the bunch, studied film and video in college and now resides in California. She works for the Conan O'Brien Show and the ABC Family show, Chasing Life.