Spotlight on NTIA: Jennifer Duane, Senior Advisor for Broadband and Public Safety, Office of the Assistant Secretary
January 06, 2016 by NTIA
This post is part of our "Spotlight on NTIA" blog series, which is highlighting the work that NTIA employees are doing to advance NTIA's mission of promoting broadband adoption, finding spectrum to meet the growing demand for wireless technologies, and ensuring the Internet remains an engine for innovation and economic growth.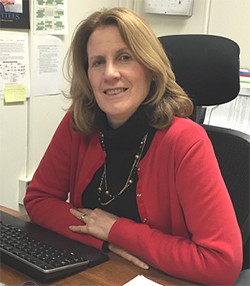 Jennifer Duane says the best thing about working at NTIA is that there is never a "typical day."
She appreciates the fast pace, the breadth of issues and the depth of the challenges NTIA is addressing.
"It never seems like there's a dull moment," she says.
Duane came to NTIA in 2009 to help implement the Broadband Technologies Opportunities Program (BTOP), which funded grants to expand broadband access and adoption. She moved to the Office of the Chief Counsel after a year and a half, continuing her work on BTOP legal issues. In 2012, she was named a Senior Advisor in the Office of the Assistant Secretary, where she added duties related to NTIA's oversight of the First Responder Network Authority (FirstNet) and other public safety efforts.
Duane grew up in Long Island, N.Y., and New Jersey, and graduated from Penn State University with a bachelor's degree in Economics. She has lived in the Washington, D.C. area for almost 25 years after graduating from the George Washington University Law School. Duane's early career focus was on energy law, and she spent four years representing public utility ratepayers before the D.C. Public Service Commission as an attorney at the Office of the People's Counsel of the District of Columbia.
Following the passage of the Telecommunications Act of 1996, Duane responded to the demand for telecommunications lawyers and joined Sprint Corporation, representing the company before the Federal Communications Commission as well as other federal agencies and state public utility commissions.
Duane remained at Sprint until another important piece of legislation was passed – the American Recovery and Reinvestment Act and its $4.7 billion broadband grant program. At NTIA, Duane is able to combine her telecommunications expertise and her prior work advocating for consumer protection and access to communications services.
Duane lives with her husband in Arlington, Va. She says she enjoys hiking, cross country skiing, and visiting nearby parks -- and prefers locations that can be reached by walking, biking or taking the Metro rather than driving. She says she also likes to travel, and on a recent trip, Duane visited Grand Teton National Park and Yellowstone National Park. Her goal with upcoming vacations is to continue exploring the United States and get the most out of her recently purchased National Park Pass.