Executive Director, Office of Spectrum Management, NTIA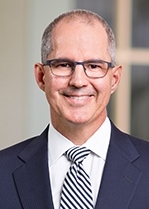 Scott Patrick helps direct NTIA's work on national spectrum strategies and policies.  His responsibilities include overseeing the development of spectrum-sharing and band-clearing strategies in the agency's work to balance the needs of federal and commercial spectrum usage.
Before joining NTIA, Mr. Patrick was a wireless, media, and technology attorney in private practice, counseling telecom, cable, broadcast, and broadband companies on a wide range of policy, transactional, and regulatory matters. He also has served as an attorney in the Wireless Telecommunications Bureau at the Federal Communications Commission. Early in his career, Mr. Patrick was a research engineer at the U.S. Naval Research Laboratory where he helped develop fiber optic electromagnetic sensors. He is a graduate of the University of Virginia School of Law and holds a master's degree in electrical engineering from the University of Maryland.