Image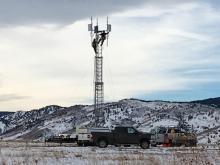 NTIA's research laboratory, the Institute for Telecommunication Sciences (ITS) recently released a much-anticipated report that will aid regulators' understanding of 5G signals that are near adjacent to the radio altimeter band.
ITS measured the potential impact of Fifth Generation New Radio (5G NR) systems in the 3700 and 3980 MHz band on airborne radar altimeter (RADALT) receivers operating between 4200 and 4400 MHz. The study, NTIA Technical Report TR-22-562, "Measurements of 5G New Radio Spectral and Spatial Power Emissions for Radar Altimeter Interference Analysis," found that most 5G transmitters emissions are focused toward the ground and produce a low level of unwanted 5G emissions within the RADALT spectrum band. This reduces the potential for 5G-to-RADALT harmful interference scenarios and increases the likelihood that unwanted emissions problems can be solved by installing or retrofitting RADALT receivers with more effective radio frequency power-rejection filters.
This report, the first in a series of three, is part of the larger Joint Interagency 5G Radar Altimeter Interference (JI-FRAI) Quick Reaction Test program to understand potential 5G interference issues. Researchers took measurements earlier this year at the Table Mountain Radio Quiet Zone and Field Test Site near Boulder Colorado. The report relied upon test procedures and measurement techniques developed by ITS and utilized the ITS Radio Spectrum Measurement System (RSMS)—a vehicle with specialized test equipment that lets ITS measure how radio waves interact and propagate over space and time.
The study illustrates both the importance of ITS' research capabilities for policymaking based in science as well as the role NTIA can play in interagency spectrum coordination as we work to develop a National Spectrum Strategy. In that vein, the NTIA/ITS measurement data are available on NTIA's GitHub so that researchers inside and outside of the federal government can conduct further study. Thanks to study authors Frank H. Sanders, Kenneth R. Calahan, Geoffrey A. Sanders, and Savio Tran for their contributions to this important work.