Associate Administrator
Image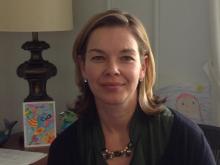 Evelyn Remaley serves as Associate Administrator for NTIA's Office of Policy Analysis and Development. In this role, Ms. Remaley leads a team of experts providing senior policy support to the Secretary of Commerce and the White House on issues impacting the Internet and digital economy. In addition, Ms. Remaley leads the Department's Cybersecurity Policy efforts. Ms. Remaley has focused NTIA's policy team to position it to meet the demands of the dynamic Internet and cyber policy landscape. Her portfolio includes work on the full scope of today's critical digital policy issues including cybersecurity, supply chain risk management, privacy, the free flow of information, encryption, and the Internet of things. Her team focuses on pursuing policies that bolster the digital economy, while protecting citizens, and works to expand the policy conversation beyond Washington, DC to reach a full spectrum of Internet ecosystem players. 
Ms. Remaley served as Acting Assistant Secretary of Commerce for Communications and Information and Acting NTIA Administrator in 2021 -- 2022. Prior to her work within the federal government, Ms. Remaley led a Cybersecurity and Internet Policy Team at Booz Allen Hamilton in McLean, VA. Here she oversaw efforts and provided subject matter expertise supporting a wide range of cyber policy and governance projects for the Departments of Defense and Homeland Security. Prior to her time at Booz Allen, Ms. Remaley worked for a leading Internet service provider in its Internet Privacy and Security Federal Practice and spent time deploying the Internet across communities through her work with public libraries. 
Ms. Remaley holds a B.S. degree from Carnegie Mellon University and a J.D. from the Catholic University of America Columbus School of Law.