Deputy Associate Administrator, Office of Spectrum Management, NTIA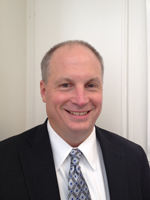 Peter Tenhula is Deputy Associate Administrator in NTIA's Office of Spectrum Management (OSM). Mr. Tenhula leads spectrum management efforts for the federal agencies and oversees engineering projects, frequency assignment and system certification activities, and spectrum policy initiatives.
Mr. Tenhula joined OSM in October 2014. He also serves as the Chair of the Interdepartment Radio Advisory Committee (IRAC), which advises NTIA on frequency assignments for U.S. Government radio stations and other policies, programs, procedures, and technical criteria pertaining to spectrum management. In 2015, Mr. Tenhula was awarded the Department of Commerce Gold Medal for Distinguished Achievement in the Federal Service for his leadership to develop and implement a new federal agency spectrum transition-planning process within the short deadlines assigned by the Middle Class Tax Relief and Job Creation Act of 2012.
Prior to joining OSM, Mr. Tenhula was a Senior Advisor in NTIA's Office of the Assistant Secretary where he advised the Assistant Secretary of Commerce for Communications and Information, OSM, and the Institute for Telecommunication Sciences (ITS) on spectrum policy matters. Before joining NTIA in 2012, Mr. Tenhula worked at Shared Spectrum Company (SSC) for six years, serving as the company's vice president and general counsel and other positions. While at SSC, he was a member of the Board of Directors of the Wireless Innovation Forum (formerly the SDR Forum) and chaired its Regulatory Committee.
From 1990 to 2006, Mr. Tenhula held several positions at the Federal Communications Commission (FCC), including Acting Deputy Chief of the Wireless Telecommunications Bureau, director and co-director of the Spectrum Policy Task Force, Senior Legal Advisor to the FCC Chairman, Special Counsel to the General Counsel, and staff attorney in the Office of General Counsel and the Mass Media Bureau.
Mr. Tenhula received his undergraduate degree in telecommunications from Indiana University, Bloomington, and earned a law degree from Washington University in St. Louis, Missouri.